2014/01/17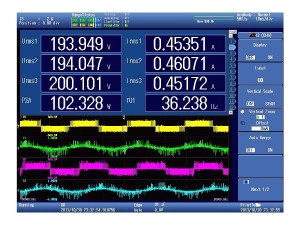 Four power inputs
Yokogawa has combined a 100Msample/s oscilloscope with a power meter with +/-0.1% measurement accuracy in a single instrument.
This instrument brings scope functionality into the area of power measurement, with high accuracy time-based power measurement something conventional power analysers and oscilloscopes were never designed to meet.
Oscilloscopes with current probes are routinely used for basic power measurement, but accuracy can be limited to +/-10%. However, this product offers test engineers a fully calibrated power meter in a scope with a 20MHz bandwidth.
Yokogawa does not expect this instrument to replace traditional power meters which offer higher, calibrated accuracy.
But where the time-based measurement capability of the PX8000 scores over a power meter is when making transient power measurements which can be missed with an averaging power meter.
It will capture of power waveforms over specific periods of time through the definition of start and stop "cursors".
With four scope inputs with 12-bit resolution and 20 MHz bandwidth, the PX8000 can be used for measurement of inverter pulse shapes, which can then be used to fine-tune inverter efficiency. A choice of input modules covers voltage, current and sensor measurements at voltages up to 1,000V(rms) and currents up to 5A(rms), with basic accuracy down to ±0.1%.
Higher values are possible with external current sensors.
The four inputs allow the instrument to be used to evaluate three-phase electrical systems. It can simultaneously capture and display of voltage and current across all three phases.
Like other Yokogawa power meters the PX8000 has two internal oscillators which allow measurement of harmonics in parallel with the fundamental voltage and current waveforms. Harmonics up to the 500th order of the fundamental can be measured.
Power analysis functions include direct calculation of derived parameters, such as root mean square (rms) and mean power values.
Scope functions include arithmetical calculations, time shifting and fast Fourier transforms. An automatic de-skewing function eliminates offsets between current and voltage signals that may be caused by sensor or input characteristics.
The PX8000 offers X/Y display capabilities which can be used, for example, to show the speed/torque characteristics of motors. It can also display Lissajous waveforms of input and output for phase analysis.
Application software called PowerViewerPlus can be used to capture waveform data and other analysis software can be used via the LabVIEW driver.
Inverter and motor testing is a likely application, but also for transient response measurement in wireless charging and electricity distribution systems.
Welcome to SUV System Ltd!
SUV System Ltd is ISO 90012008 Certified electronics distributor with 10 years of experiences.
We have built up long term business relationship with about many companies which are stockers and authorized agents. we have a steady and reliable supply to meet customer's demands to the greatest extent .Confidently, we are able to lower your cost and support your business with our years of professional service.
SUV System Ltd is Electronic Components Distributor Supplies,Find Quality Electronic Components Supplies Products IC(Integrated Circuits),Connectors,Capacitor,Resistors,Diodes,Transistors,LED at Suvsystem.com. Sourcing Other Energy, Environment, Excess Inventory Products from Manufacturers and Suppliers at Suvsystem.com
Electronic Components distributor:http://www.suvsystem.com
Connectors Distributor:http://www.suvsystem.com/l/Connectors-1.html
IC Distributor:http://www.suvsystem.com/l/IC(Integrated-Circuits)-1.html
LED Distributor:http://www.suvsystem.com/l/LED-1.html
Capacitor Distributor:http://www.suvsystem.com/l/Capacitor-1.html
Transistor Distributor:http://www.suvsystem.com/l/Transistors-1.html
Resistor Distributor:http://www.suvsystem.com/l/Resistors-1.html
Diode Distributor:http://www.suvsystem.com/l/Diodes-1.html
SUV System Ltd insists on the managing faith ofsincereness,speciality,foresight, win-win,so we build up stable-relationship customers located all over the world, including the States, Europe, Argentina, UAE, Malaysia, Australia,and India etc
we are focus on the following fields,and hope we can help you.
Industrial IC
Texas Instruments(TI) IC
Resistor Networks
chip Filter saws
AD IC
HARRIS IC
Voltage Regulators Transistors
Freescale Semiconductor
PANASONIC Resistors
Switches
Electronic News
Diodes
Atmel IC
ROHM Resistors
Other Parts
Fairchild Semiconductor Transistors
Diodes Inc
Metal Can Packages Transistors
Xilinx IC
Low Ohmic Resistors
High Precision Resistors
Zener Diodes
BB IC
MOTOROLA IC
FAIRCHILD diodes
Discrete Semiconductor Transistors
AVX Resistors
Transistors
Civil IC
Multi-units Transistors
Vishay resistors
INTERSIL IC
Renesas parts IC
ELPIDA IC
VISHAY IC
NXP Diodes
Transistors Freescale
Fleld Effect Transistors
LITTELFUSE Diodes
Current Sensors Resistors
http://www.suvsystem.com/a/9290.aspx