2014/01/21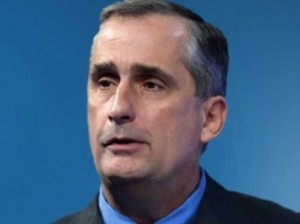 Brian Krzanich, Intel CEO
Intel has agreed to sell is Cloud TV products and services business to Verizon Communications.
Verizon will purchase intellectual property rights and other assets for Intel's OnCue Cloud TV platform.
"This sale also enables Intel to further align our focus and resources around advancing our broad computing product portfolio in segments ranging from the Internet-of-Things to data centers," said Intel CEO Brian Krzanich.
The intention is to integrate IP-based TV services with Verizon's FiOS video services to further differentiate them from competing cable TV services.  This will include interactivity and integration with the Verizon Wireless 4G LTE network.
"The OnCue platform and team will help Verizon bring next-generation video services to audiences who increasingly expect to view content when, where and how they want it," said Lowell McAdam, chairman and CEO of Verizon.
Verizon said this will open up opportunities for mobile video in the future.
"Intel Media's over-the-top TV products are truly innovative and under Verizon's ownership have the potential to change how people interact with content," said Krzanich.
"The critical factor in gaining efficient access to content is based on your ability to scale quickly in subscribers and end users," said Krzanich.
Verizon will also make employment offers to substantially all of the approximately 350-person Intel unit, which will continue to be based in Santa Clara and be led by its current management team.
The transaction is subject to customary regulatory approvals and closing conditions and is expected to close early in the first quarter of 2014.
Related news:
Flat year projected at Intel
Welcome to SUV System Ltd!
SUV System Ltd is ISO 90012008 Certified electronics distributor with 10 years of experiences.
We have built up long term business relationship with about many companies which are stockers and authorized agents. we have a steady and reliable supply to meet customer's demands to the greatest extent .Confidently, we are able to lower your cost and support your business with our years of professional service.
SUV System Ltd is Electronic Components Distributor Supplies,Find Quality Electronic Components Supplies Products IC(Integrated Circuits),Connectors,Capacitor,Resistors,Diodes,Transistors,LED at Suvsystem.com. Sourcing Other Energy, Environment, Excess Inventory Products from Manufacturers and Suppliers at Suvsystem.com
Electronic Components distributor:http://www.suvsystem.com
Connectors Distributor:http://www.suvsystem.com/l/Connectors-1.html
IC Distributor:http://www.suvsystem.com/l/IC(Integrated-Circuits)-1.html
LED Distributor:http://www.suvsystem.com/l/LED-1.html
Capacitor Distributor:http://www.suvsystem.com/l/Capacitor-1.html
Transistor Distributor:http://www.suvsystem.com/l/Transistors-1.html
Resistor Distributor:http://www.suvsystem.com/l/Resistors-1.html
Diode Distributor:http://www.suvsystem.com/l/Diodes-1.html
SUV System Ltd insists on the managing faith ofsincereness,speciality,foresight, win-win,so we build up stable-relationship customers located all over the world, including the States, Europe, Argentina, UAE, Malaysia, Australia,and India etc
we are focus on the following fields,and hope we can help you.
Switching Diodes
Discrete Semiconductor Transistors
Diodes Inc
AVX Resistors
LED part
Digital Transistors
Xilinx IC
TOSHIBA Diodes
ROHM Resistors
Transistors Freescale
Electronic News
INFLNEON Diodes
Vishay resistors
Chip Fuses
VISHAY IC
NEC Diodes
TI IC
Atmel IC
MOTOROLA IC
Microchip IC
AD IC
Thick Film Resistors
Current Sensors Resistors
TOSHIBA Transistors
components
Fleld Effect Transistors
Thin Film Resistors
NXP Diodes
BB IC
ELPIDA IC
Industrial IC
IR Diodes
INTERSIL IC
ALTERA IC
FAIRCHILD diodes
IC(Integrated Circuits)
SANYO IC
High Precision Resistors
Fast Recovery Diodes
Civil IC
http://www.suvsystem.com/a/9417.aspx