2014/01/23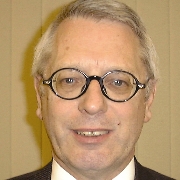 Malcolm Penn – Future Horizons
For the semiconductor industry, it's time to think the unthinkable. This was the message from IFS2014, organised by Future Horizons, in London earlier this week.
"The global IC industry is in epic upheaval," said Malcolm Penn, CEO of Future Horizons, "it's the ideal time to seize a long-term initiative."
Take the Electronics Weekly Salary Survey 2014 »
The opportunity is 450mm. "Whoever jumps first will have a huge competitive advantage. 450mm delivers a 30% die cost reduction. It will kill the competition," said Penn.
The problem with the semiconductor industry, as with all industries, is that entrenched market leaders are difficult to replace.
"You can never catch a market leader," said Penn, "you need a dislocation point to get to a new starting point at the same time as everyone else."
450mm is, he said, "a serious dislocation point."
The big question is: Who wants 450mm?
One person who does is Neelie Kroes, vp of the EC, who has a budget of $80 billion to secure a 20% market share for European manufactured ICs.
But which companies want 450mm?
"No one's made the commitment to 450mm yet," said Penn, "for the Big 3 it's maybe;  for GloFo, Toshiba, Micron and Hynix it's maybe; for the equipment firms it's no; for the Big 3 European firms it's no (they can't support anything their shareholders don't support)."
So the industry is indecisive. "This is when people think the unthinkable," said Penn.
Without any single company backing a 450mm plant, the options for building one are:
Consortium
Start-up
Jointly-owned
Mega-merger.
"There are plenty of opportunities for a new start-up with a 450mm fab," said Penn.
That would really put a fox among the chickens.
And it might help make Neelie's 20% attainable. "The 20% production share requires 450mm high volume production in Europe," said Penn.
A major plus for that happening is that the first 450mm wafers are likely to be processed in Europe – at Imec.
"Imec will be the first to fab 450mm wafers in the pilot line they are building at Leuven," said Penn "the Intel pilot line will supplant it soon after and be much larger."
So Europe has the budget and it will have the technology in a timely manner. All it needs is the business model.
The attraction of devising and implementing such a model is, said Penn, that the effect of being first to adopt 450mm processing "is the semiconductor equivalent of a nuclear first strike."
Welcome to SUV System Ltd!
SUV System Ltd is ISO 90012008 Certified electronics distributor with 10 years of experiences.
We have built up long term business relationship with about many companies which are stockers and authorized agents. we have a steady and reliable supply to meet customer's demands to the greatest extent .Confidently, we are able to lower your cost and support your business with our years of professional service.
SUV System Ltd is Electronic Components Distributor Supplies,Find Quality Electronic Components Supplies Products IC(Integrated Circuits),Connectors,Capacitor,Resistors,Diodes,Transistors,LED at Suvsystem.com. Sourcing Other Energy, Environment, Excess Inventory Products from Manufacturers and Suppliers at Suvsystem.com
Electronic Components distributor:http://www.suvsystem.com
Connectors Distributor:http://www.suvsystem.com/l/Connectors-1.html
IC Distributor:http://www.suvsystem.com/l/IC(Integrated-Circuits)-1.html
LED Distributor:http://www.suvsystem.com/l/LED-1.html
Capacitor Distributor:http://www.suvsystem.com/l/Capacitor-1.html
Transistor Distributor:http://www.suvsystem.com/l/Transistors-1.html
Resistor Distributor:http://www.suvsystem.com/l/Resistors-1.html
Diode Distributor:http://www.suvsystem.com/l/Diodes-1.html
SUV System Ltd insists on the managing faith ofsincereness,speciality,foresight, win-win,so we build up stable-relationship customers located all over the world, including the States, Europe, Argentina, UAE, Malaysia, Australia,and India etc
we are focus on the following fields,and hope we can help you.
Resistor Arrays
PANASONIC Resistors
Freescale Semiconductor
ALTERA IC
IDT IC
Xilinx IC
AVX Resistors
INTERSIL IC
NS IC
Switching Diodes
Texas Instruments(TI) IC
INFLNEON Diodes
chip Filter saws
About US
Chip Inductors
IR transistor
AD IC
LED part
MOTOROLA IC
Microchip IC
ST Diodes
TDK IC
Digital Transistors
IC(Integrated Circuits)
PANASONIC
Zener Diodes
Cypress IC
Metal Can Packages Transistors
HARRIS IC
Low Ohmic Resistors
Fleld Effect Transistors
ROHM Resistors
Diodes
ST Transistors
Industrial IC
VISHAY IC
Transistors Freescale
Ligitek LED
Resistor Networks
FAIRCHILD diodes
http://www.suvsystem.com/a/9569.aspx