2014/01/16
22jan14MurataMouser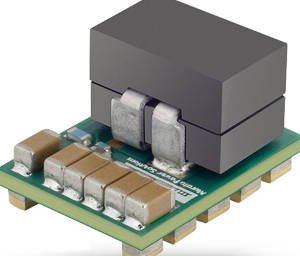 Murata has got together with German chip firm ZMDI to produce the Power Block, a small (13x17x11mm) module that includes all the components necessary to make a non-isolated 25A step down dc-dc converter, except for the source of PWM waveform.
OKLP-X/25-W12-C, the first in a series of products, is optimised for use with ZMDI's ZSPM10x5 digital controllers, but is also suited to controllers from International Rectifier, Linear Tech, Powervation, and TI, said Murata.
Up to 49.5W is available, and efficiency is 93.5% when 3.3V 15A is supplied from 12V.
Output range is 0.8-3.6V, from 7-13Vin, and up to 25A at 1.0V is supported.
On the PCB is a synchronous buck gate driver chip co-packed two power mosfets and a Schottky diode (see circuit). The output LC filter is 375nH and 20μf.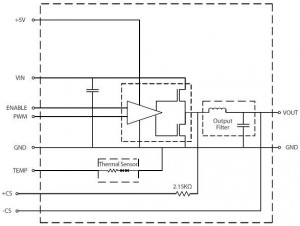 The driver chip needs a separate regulated 5V (4.5-7V, 40mAmax@500kHz) auxiliary supply rail, which has to be established before the PWM starts, said Murata. Driver under-voltage lock-out threshold is 3-4.1Vhysteric.
Intended for 400-600kHz operation, the PWM high threshold is 3.3V compatible (2.5V-(auxiliary+0.3V)).
The Power Block is available from Mouser, as is the ZMDI's ZSPM10x5 controller. http://www.mouser.com/murata-power-block
http://www.mouser.com/new/zmdi/zmdi-10×5-pwm-controller
ZMDI's PC-based Pink Power Designer™ provides a user-friendly interface to the ZSPM10x5 for monitoring and configuration of the chip's voltage control and protection features. A Power Management Bus (PMBus™) interface is supported.
http://www.zmdi.com/zspm-tools
Welcome to SUV System Ltd!
SUV System Ltd is ISO 90012008 Certified electronics distributor with 10 years of experiences.
We have built up long term business relationship with about many companies which are stockers and authorized agents. we have a steady and reliable supply to meet customer's demands to the greatest extent .Confidently, we are able to lower your cost and support your business with our years of professional service.
SUV System Ltd is Electronic Components Distributor Supplies,Find Quality Electronic Components Supplies Products IC(Integrated Circuits),Connectors,Capacitor,Resistors,Diodes,Transistors,LED at Suvsystem.com. Sourcing Other Energy, Environment, Excess Inventory Products from Manufacturers and Suppliers at Suvsystem.com
Electronic Components distributor:http://www.suvsystem.com
Connectors Distributor:http://www.suvsystem.com/l/Connectors-1.html
IC Distributor:http://www.suvsystem.com/l/IC(Integrated-Circuits)-1.html
LED Distributor:http://www.suvsystem.com/l/LED-1.html
Capacitor Distributor:http://www.suvsystem.com/l/Capacitor-1.html
Transistor Distributor:http://www.suvsystem.com/l/Transistors-1.html
Resistor Distributor:http://www.suvsystem.com/l/Resistors-1.html
Diode Distributor:http://www.suvsystem.com/l/Diodes-1.html
SUV System Ltd insists on the managing faith ofsincereness,speciality,foresight, win-win,so we build up stable-relationship customers located all over the world, including the States, Europe, Argentina, UAE, Malaysia, Australia,and India etc
we are focus on the following fields,and hope we can help you.
ALTERA IC
Bipolar Transistors
FAIRCHILD diodes
Infineon Technologies Transistors
Resistor Arrays
Schottky Diodes
Resistor Networks
Chip Inductors
Metal Can Packages Transistors
LITTELFUSE Diodes
Cypress IC
Electronic News
Fast Recovery Diodes
PANASONIC
Voltage Regulators Transistors
VISHAY IC
Dialight LED
IR transistor
Multi-units Transistors
NXP Diodes
Fairchild Semiconductor Transistors
LED
Thin Film Resistors
Fleld Effect Transistors
Resistors
TOSHIBA Diodes
AGILENT LED
MOTOROLA IC
NS IC
NEC Diodes
Connectors
Current Sensors Resistors
Xilinx IC
HARRIS IC
Kingbrigt LED
DIODES Transistors
ELPIDA IC
MAXIM IC
IDT IC
Civil IC
http://www.suvsystem.com/a/9233.aspx