2014/01/07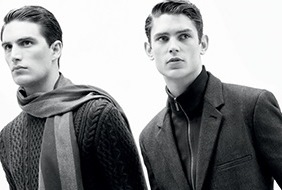 Barneys NY
Intel CEO Brian Krzanich revealed the chip maker's plans for wearable devices as CES  2014, the International Consumer Electronics Show opens in Las Vegas.
Intel will create reference design devices and platforms to support the development of wearable products.
Krzanich indentified specific wearable reference devices which Intel will develop, these included smart earbuds that provide biometric and fitness capabilities, a smart headset that is always ready to engage and can integrate with existing personal assistant technologies to make the consumer experience more intuitive, and a smart wireless charging bowl.
Intel will also collaborate with clothing company Barneys New York to create new smart wearable technologies. "We will increase dialogue and cooperation between the fashion and technology industries," said Krzanich.
Going hand in hand with this expansion of computing technologies, Krzanich believes we are now at a point when security is "too important not to have it embedded in all devices".
As examples, he highlighted several immersive and intuitive technologies that Intel will begin offering this year. For example, the company is bringing human senses to Intel-based devices in a new family of hardware and software products called Intel RealSense technology.
Krzanich said Intel plans to offer elements of McAfee's security software for Apple and Android mobile devices for free.
"The complexity of keeping digital identities safe grows as mobile applications and devices become a more important part of our daily lives," said Krzanich. "Intel's intent is to intensify our efforts dedicated to making the digital world more secure, and staying ahead of threats to private information on mobile and wearable devices."
One issue is Android-based devices that are not compatible with a company's PC-centric security requirements. Intel Security this year will offer Intel Device Protection technology, which will help Intel-based Android mobile devices meet most security standards for use at home and work.
Welcome to SUV System Ltd!
SUV System Ltd is ISO 90012008 Certified electronics distributor with 10 years of experiences.
We have built up long term business relationship with about many companies which are stockers and authorized agents. we have a steady and reliable supply to meet customer's demands to the greatest extent .Confidently, we are able to lower your cost and support your business with our years of professional service.
SUV System Ltd is Electronic Components Distributor Supplies,Find Quality Electronic Components Supplies Products IC(Integrated Circuits),Connectors,Capacitor,Resistors,Diodes,Transistors,LED at Suvsystem.com. Sourcing Other Energy, Environment, Excess Inventory Products from Manufacturers and Suppliers at Suvsystem.com
Electronic Components distributor:http://www.suvsystem.com
Connectors Distributor:http://www.suvsystem.com/l/Connectors-1.html
IC Distributor:http://www.suvsystem.com/l/IC(Integrated-Circuits)-1.html
LED Distributor:http://www.suvsystem.com/l/LED-1.html
Capacitor Distributor:http://www.suvsystem.com/l/Capacitor-1.html
Transistor Distributor:http://www.suvsystem.com/l/Transistors-1.html
Resistor Distributor:http://www.suvsystem.com/l/Resistors-1.html
Diode Distributor:http://www.suvsystem.com/l/Diodes-1.html
SUV System Ltd insists on the managing faith ofsincereness,speciality,foresight, win-win,so we build up stable-relationship customers located all over the world, including the States, Europe, Argentina, UAE, Malaysia, Australia,and India etc
we are focus on the following fields,and hope we can help you.
Metal Can Packages Transistors
AD IC
AVX Resistors
TI IC
Schottky Diodes
Fairchild Semiconductor Transistors
ELPIDA IC
Electronic News
Freescale Semiconductor
Vishay resistors
NXP Diodes
Switching Diodes
Kingbrigt LED
TOSHIBA Transistors
High Precision Resistors
FAIRCHILD diodes
Other Parts
SANYO IC
Zener Diodes
AGILENT LED
Resistors
Chip Ferrite Beads
MURATA IC
Transistors
ON Diodes
NXP Transistors
ST Diodes
TDK IC
Bipolar Transistors
Rectifier Diodes
Thin Film Resistors
Connectors
chip Filter saws
ON Transistors
Diodes
MAXIM IC
Resistor Arrays
HARRIS IC
Industrial IC
Chip Inductors
http://www.suvsystem.com/a/8778.aspx