2014/01/10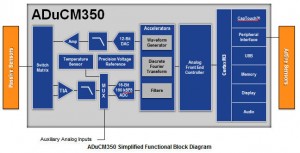 Analog Devices is aiming at portable heathcare with a precision meter-on-a-chip that will run on a coin cell.
ADuCM350 has a 16bit analogue front-end (AFE) which includes a multi-sensor switch matrix, hardware waveform generator, discrete Fourier transform (DFT) engine, and an ARM Cortex-M3 microcontroller.
Applications are expected in point-of-care diagnostics, home self-test health devices, wearable vital signs monitors, and sports and fitness monitors.
The auto-calibrating AFE includes a 16bit 160ksample/s ADC, +/-0.2% voltage reference, and 12bit no-missing-code DAC.
"Passive complex impedance sensing enables baseline detection and detailed information of physiological, biological and electrochemical reactions, at levels previously unattainable," said the firm. "The fusion of passive and active sensors provides an additional level of signal measurement accuracy, and environmentally robust capacitance-to-digital technology supports new use cases such as skin electrode detection and next-generation electrochemical test strip technologies."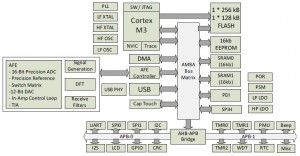 An example of sensor fusion, according to the firm, is calorie burn estimation by combining galvanic skin response for heart rate and respiration, with a three axis MEMS accelerometer for altitude and motion detection.
I/O peripherals include: USB, audio, display, serial and touch.
supports differentiation and rapid feature expansion. The ADuCM350 AFE sequencer enables designers to develop the software for a measurement procedure only once and then reliably port it across an entire product family.
The Cortex-M3 runs at 16MHz and hax 384kbyte of flash, 16kbyte EEPROM, and 32kbyte SRAM, as well as hardware accelerators for waveform generation and filtering.
It is sampling now with production slated for April.
Welcome to SUV System Ltd!
SUV System Ltd is ISO 90012008 Certified electronics distributor with 10 years of experiences.
We have built up long term business relationship with about many companies which are stockers and authorized agents. we have a steady and reliable supply to meet customer's demands to the greatest extent .Confidently, we are able to lower your cost and support your business with our years of professional service.
SUV System Ltd is Electronic Components Distributor Supplies,Find Quality Electronic Components Supplies Products IC(Integrated Circuits),Connectors,Capacitor,Resistors,Diodes,Transistors,LED at Suvsystem.com. Sourcing Other Energy, Environment, Excess Inventory Products from Manufacturers and Suppliers at Suvsystem.com
Electronic Components distributor:http://www.suvsystem.com
Connectors Distributor:http://www.suvsystem.com/l/Connectors-1.html
IC Distributor:http://www.suvsystem.com/l/IC(Integrated-Circuits)-1.html
LED Distributor:http://www.suvsystem.com/l/LED-1.html
Capacitor Distributor:http://www.suvsystem.com/l/Capacitor-1.html
Transistor Distributor:http://www.suvsystem.com/l/Transistors-1.html
Resistor Distributor:http://www.suvsystem.com/l/Resistors-1.html
Diode Distributor:http://www.suvsystem.com/l/Diodes-1.html
SUV System Ltd insists on the managing faith ofsincereness,speciality,foresight, win-win,so we build up stable-relationship customers located all over the world, including the States, Europe, Argentina, UAE, Malaysia, Australia,and India etc
we are focus on the following fields,and hope we can help you.
Resistor Networks
VISHAY IC
HARRIS IC
Switching Diodes
Connectors
Dialight LED
Chip Fuses
LED
INFLNEON Diodes
Chip Ferrite Beads
LITTELFUSE Diodes
NXP Transistors
Resistors
Bipolar Transistors
Transistors Freescale
Switches
ON Diodes
Metal Can Packages Transistors
Infineon Technologies Transistors
NXP Diodes
TDK IC
ON Transistors
ROHM Resistors
Schottky Diodes
Atmel IC
Kingbrigt LED
AD IC
Current Sensors Resistors
SANYO IC
chip Filter saws
Chip Inductors
Digital Transistors
PANASONIC Resistors
IDT IC
Cypress IC
Diodes Inc
TI IC
IC(Integrated Circuits)
Renesas parts IC
ALTERA IC
http://www.suvsystem.com/a/8993.aspx