2014/01/09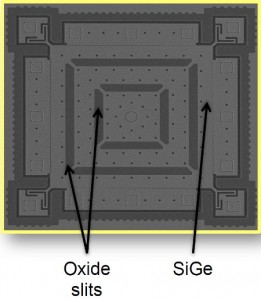 MEMS resonator
In 2013,  Silicon Labs revealed a quartz-beating MEMS resonator, the first fruit of technology from its 2010 acquisition of Sunnyvale-based Silicon Clocks, and a gem of semiconductor engineering.
"We are guaranteeing ±20ppm performance for 10 years from -40 to 85°C, Mike Petrowski, v-p timing products at Silicon Labs, told Electronics Weekly.
The resonator is a square of poly-SiGe topped with carefully-shaped SiO2, suspended by springs at its corners and a post in the middle, and built over processed CMOS.
"With this material, the process to deposit on top of CMOS is compatible with the thermal budget of the underlying CMOS. One fab does the whole thing," said Petrowski.
"SiGe gets softer when hot, but SiO2 has a unique property: it gets hard when hot. We get passive temperature compensation; it is inherently an order of magnitude better stability so electronic temperature compensation can be simpler, smaller, and take less power," said Petrowski.
The electronics is essentially a temperature-compensated VCO stabilised by the MEMS resonator. At the top of the new range is the Si504 which can generate any frequency between 32kHz and 100MHz, adjusted through a one pin serial interface.
"It is an analogue loop with a lot of resolution, the resolution is in parts-per-billion," said Petrowski.
Below this are three other parts: Si501, 502 and 503, which have one, two, and four factory set independent output frequencies respectively, available on the single output pin. "Although there are some standard frequencies, oscillators is a business of mass-customisation," said Petrowski.
"Multi-frequency operation is a big deal to our folks. Video, for example, has a bunch of different standards, so does audio." Consumption is 1.7mA. "If you want to improve jitter a little bit, it can be as low as 1.1psrms, we can increase power a little bit," said Petrowski, "and we can customise drive strength to slow edges as well."
Packages are three DFNs: 3.2x4mm (fits a 3.2x5mm footprint), 2.5×3.2, or 2×2.5, with any model available in any package.
Why did Silicon Labs go for MEMS rather than a compensated circuit resonator like eoSemi's?
"We thought our path with a physical resonator was much more deterministic and less risky than one with an electronic resonator," said Petrowski. "With an electronic resonator, a lot of things would have to be figured out to get >100ppm, and ours is at 20ppm."
Welcome to SUV System Ltd!
SUV System Ltd is ISO 90012008 Certified electronics distributor with 10 years of experiences.
We have built up long term business relationship with about many companies which are stockers and authorized agents. we have a steady and reliable supply to meet customer's demands to the greatest extent .Confidently, we are able to lower your cost and support your business with our years of professional service.
SUV System Ltd is Electronic Components Distributor Supplies,Find Quality Electronic Components Supplies Products IC(Integrated Circuits),Connectors,Capacitor,Resistors,Diodes,Transistors,LED at Suvsystem.com. Sourcing Other Energy, Environment, Excess Inventory Products from Manufacturers and Suppliers at Suvsystem.com
Electronic Components distributor:http://www.suvsystem.com
Connectors Distributor:http://www.suvsystem.com/l/Connectors-1.html
IC Distributor:http://www.suvsystem.com/l/IC(Integrated-Circuits)-1.html
LED Distributor:http://www.suvsystem.com/l/LED-1.html
Capacitor Distributor:http://www.suvsystem.com/l/Capacitor-1.html
Transistor Distributor:http://www.suvsystem.com/l/Transistors-1.html
Resistor Distributor:http://www.suvsystem.com/l/Resistors-1.html
Diode Distributor:http://www.suvsystem.com/l/Diodes-1.html
SUV System Ltd insists on the managing faith ofsincereness,speciality,foresight, win-win,so we build up stable-relationship customers located all over the world, including the States, Europe, Argentina, UAE, Malaysia, Australia,and India etc
we are focus on the following fields,and hope we can help you.
NEC Transistors
DIODES Transistors
NS IC
Fast Recovery Diodes
Chip Inductors
ELPIDA IC
LITTELFUSE Diodes
AVX Resistors
Discrete Semiconductor Transistors
INTERSIL IC
Capacitor
Atmel IC
ST Transistors
Digital Transistors
Thin Film Resistors
Rectifier Diodes
Renesas parts IC
High Precision Resistors
LED part
Thick Film Resistors
Transistors Freescale
MAXIM IC
Electronic News
PANASONIC Resistors
YAGEO Resistors
VISHAY IC
Resistor Arrays
components
LED
Vishay resistors
ALTERA IC
PANASONIC
AGILENT LED
INFLNEON Diodes
Bipolar Transistors
Low Ohmic Resistors
IR transistor
Industrial IC
Freescale Semiconductor
Military IC
http://www.suvsystem.com/a/8937.aspx