2014/01/08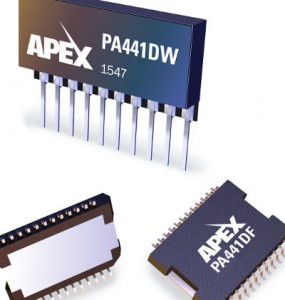 Apex has introduced a fourth generation of 350V op-amps, cutting noise by 96% and halving offset voltage compared with its original PA41.
Called the PA44x series, noise is now 12µVRMS at 20kHz, to enhance their performance in piezo positioning applications, said the firm. Offset is 5mV typical at 25°C and 20mV typical across the whole -40 to +125°C operating range.
There are three members, and all three operate with supplies from +/-10V to +/-175V. Output current is 60mA continuous and 120mA peak. Quiescent current is 2.2mA.
"The mosfet output stage is not limited by second breakdown considerations as in bipolar output stages," said Apex, "however there are still three limitations: voltage withstanding of the transistors, current handling of the die metallization, and temperature of the output mosfets."
Gain-bandwidth product is 10MHz at 1MHz. Settling time to 0.1% is 2µs (10V step, AV=-10).
PA441DF, sampling now, has one op-amp, housed in a non-hermetic plastic, surface mount 24pin PSOP.
PA441DW is another single, in an electrically-isolated 10pin ceramic SIP, and will sample later in Q1.
PA443DF is a dual channel (two die) version, in the PSOP, and will also sample later in Q1.
They are drop-in replacements for their PA341DF, PA341DW and PA343DF predecessors.
Evaluation kit EK13 is dedicated to the two DF parts and includes a PCB and heatsink. For the single-in-line PA441DW, Apex suggests its EK42 kit, which is normally used with other parts including the 450V 200mA PA15FL.
Other applications are expected in electrostatic transducer and deflection circuits, deformable mirror focusing, biochemistry stimulators and computer-to-vacuum interfaces.
Welcome to SUV System Ltd!
SUV System Ltd is ISO 90012008 Certified electronics distributor with 10 years of experiences.
We have built up long term business relationship with about many companies which are stockers and authorized agents. we have a steady and reliable supply to meet customer's demands to the greatest extent .Confidently, we are able to lower your cost and support your business with our years of professional service.
SUV System Ltd is Electronic Components Distributor Supplies,Find Quality Electronic Components Supplies Products IC(Integrated Circuits),Connectors,Capacitor,Resistors,Diodes,Transistors,LED at Suvsystem.com. Sourcing Other Energy, Environment, Excess Inventory Products from Manufacturers and Suppliers at Suvsystem.com
Electronic Components distributor:http://www.suvsystem.com
Connectors Distributor:http://www.suvsystem.com/l/Connectors-1.html
IC Distributor:http://www.suvsystem.com/l/IC(Integrated-Circuits)-1.html
LED Distributor:http://www.suvsystem.com/l/LED-1.html
Capacitor Distributor:http://www.suvsystem.com/l/Capacitor-1.html
Transistor Distributor:http://www.suvsystem.com/l/Transistors-1.html
Resistor Distributor:http://www.suvsystem.com/l/Resistors-1.html
Diode Distributor:http://www.suvsystem.com/l/Diodes-1.html
SUV System Ltd insists on the managing faith ofsincereness,speciality,foresight, win-win,so we build up stable-relationship customers located all over the world, including the States, Europe, Argentina, UAE, Malaysia, Australia,and India etc
we are focus on the following fields,and hope we can help you.
Transistors Freescale
Current Sensors Resistors
Connectors
Cypress IC
Military IC
Resistor Arrays
Chip Inductors
FAIRCHILD diodes
ROHM Resistors
Renesas parts IC
components
BB IC
YAGEO Resistors
SANYO IC
ELPIDA IC
Switching Diodes
High Precision Resistors
MAXIM IC
NEC Transistors
Digital Transistors
Chip Ferrite Beads
IDT IC
About US
HARRIS IC
NXP Transistors
Diodes Inc
Zener Diodes
Resistors
PANASONIC
NXP Diodes
Fairchild Semiconductor Transistors
TDK IC
Xilinx IC
chip Filter saws
Resistor Networks
Civil IC
ON Diodes
Kingbrigt LED
TI IC
Vishay resistors
http://www.suvsystem.com/a/8850.aspx