2013/12/30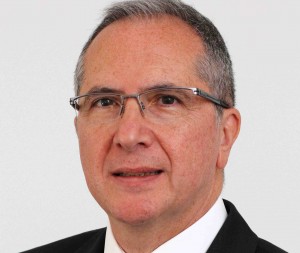 Gabriel Lezmi
The European macro environment has been showing signs of uncertainty, and the continued pressure of this economic squeeze is challenging. Simultaneously, our customers continue to have a high degree of focus on aggressive design activity, writes Gabriel Lezmi, vice president of Synopsys sales in Europe.
The result is a strong demand for advanced tools and silicon intellectual property (IP).
For our customers, high-impact EDA and IP are more differentiating than ever before, making deep collaboration with the right supplier crucial. Synopsys benefits from these trends and our important investments in R&D continue to pay off.
Looking at the continued technology evolution, Synopsys enables the most advanced designs in the world. Be it design at the most innovative FinFET technology nodes, or advanced design at more established nodes, customers rely on Synopsys whenever they want competitive differentiation.
Over the past 10 years, the use of third-party commercial IP has gone from experimental to mainstream. In parallel, IP complexity has evolved from simple cost-advantaged blocks, to a broad portfolio of all the main interface protocols, to extremely complex, state-of-the-art and rapidly evolving next-generation solutions.
Today, software drivers and even entire operating systems can be delivered with IP cores, creating IP subsystems. Recently, we even announced a new low-power IP subsystem for sensors, aimed at the emerging market for the Internet of Things. Something that makes it different is that it's an integrated, pre-verified system that sensor developers can purchase off-the-shelf, rather than developing and assembling each component themselves.
The amount of IP that the top 20 semiconductor vendors consume has increased by 5X over the past few years. Synopsys has about 1,900 engineers designing commercial IP blocks, giving us the number-one position in interface, embedded memories and analog IP.
We estimate that only about 50 percent of these types of blocks are outsourced today, and we expect this market segment to continue to grow, driven by more outsourcing and by additional protocols and titles, such as interface IP for sensors.
Europe is well positioned in the fast growing high-performance electronic sensor market with its specialty fabs and foundries. To support our customers in this important area, we've been providing simulation tools to help process refinement, and we've been collaborating to develop standard iPDKs.
The largest bottleneck in system and chip design today is in verification. Synopsys has been delivering verification solutions for many years in both leading-edge digital verification and analog circuit simulation, where tool performance is key and a complete solution is increasingly a must.
In systems, the need to simultaneously verify hardware and software is growing in equally rapid importance. The combination of emulation, FPGA-based prototyping and virtual prototyping is unique in its breadth and capabilities. In the past, customers typically built and assembled complex FPGA boards in-house to complement their chip simulation and accelerate their hardware/software debugging.
In automotive, for example, our customers are taking advantage of our leading virtual prototyping technology so they can start their software development earlier and accelerate system integration, test and validation.
With the addition of the most comprehensive open debug system, (Verdi), and our verification IP offering, we address the entire verification market with outstanding tools.
By investing more than 30 percent of our revenue in R&D each year, and by employing more than 1,000 engineers who work closely with European companies, Synopsys continues to demonstrate broad strength and technology innovation.
Welcome to SUV System Ltd!
SUV System Ltd is ISO 90012008 Certified electronics distributor with 10 years of experiences.
We have built up long term business relationship with about many companies which are stockers and authorized agents. we have a steady and reliable supply to meet customer's demands to the greatest extent .Confidently, we are able to lower your cost and support your business with our years of professional service.
SUV System Ltd is Electronic Components Distributor Supplies,Find Quality Electronic Components Supplies Products IC(Integrated Circuits),Connectors,Capacitor,Resistors,Diodes,Transistors,LED at Suvsystem.com. Sourcing Other Energy, Environment, Excess Inventory Products from Manufacturers and Suppliers at Suvsystem.com
Electronic Components distributor:http://www.suvsystem.com
Connectors Distributor:http://www.suvsystem.com/l/Connectors-1.html
IC Distributor:http://www.suvsystem.com/l/IC(Integrated-Circuits)-1.html
LED Distributor:http://www.suvsystem.com/l/LED-1.html
Capacitor Distributor:http://www.suvsystem.com/l/Capacitor-1.html
Transistor Distributor:http://www.suvsystem.com/l/Transistors-1.html
Resistor Distributor:http://www.suvsystem.com/l/Resistors-1.html
Diode Distributor:http://www.suvsystem.com/l/Diodes-1.html
SUV System Ltd insists on the managing faith ofsincereness,speciality,foresight, win-win,so we build up stable-relationship customers located all over the world, including the States, Europe, Argentina, UAE, Malaysia, Australia,and India etc
we are focus on the following fields,and hope we can help you.
Fairchild Semiconductor Transistors
MOTOROLA IC
LINEAR IC
NXP Diodes
Texas Instruments(TI) IC
Freescale Semiconductor
Chip Ferrite Beads
Other Parts
Switches
NS IC
Vishay resistors
Capacitor
Xilinx IC
IR transistor
ON Transistors
BB IC
Diodes Inc
INFLNEON Diodes
SANYO IC
NEC Diodes
NXP Transistors
HARRIS IC
VISHAY IC
TDK IC
ELPIDA IC
Cypress IC
MAXIM IC
Resistor Arrays
NEC Transistors
Electronic News
Chip Inductors
ST Transistors
Diodes
TOSHIBA Transistors
About US
Current Sensors Resistors
components
Military IC
TOSHIBA Diodes
Voltage Regulators Transistors
http://www.suvsystem.com/a/8552.aspx